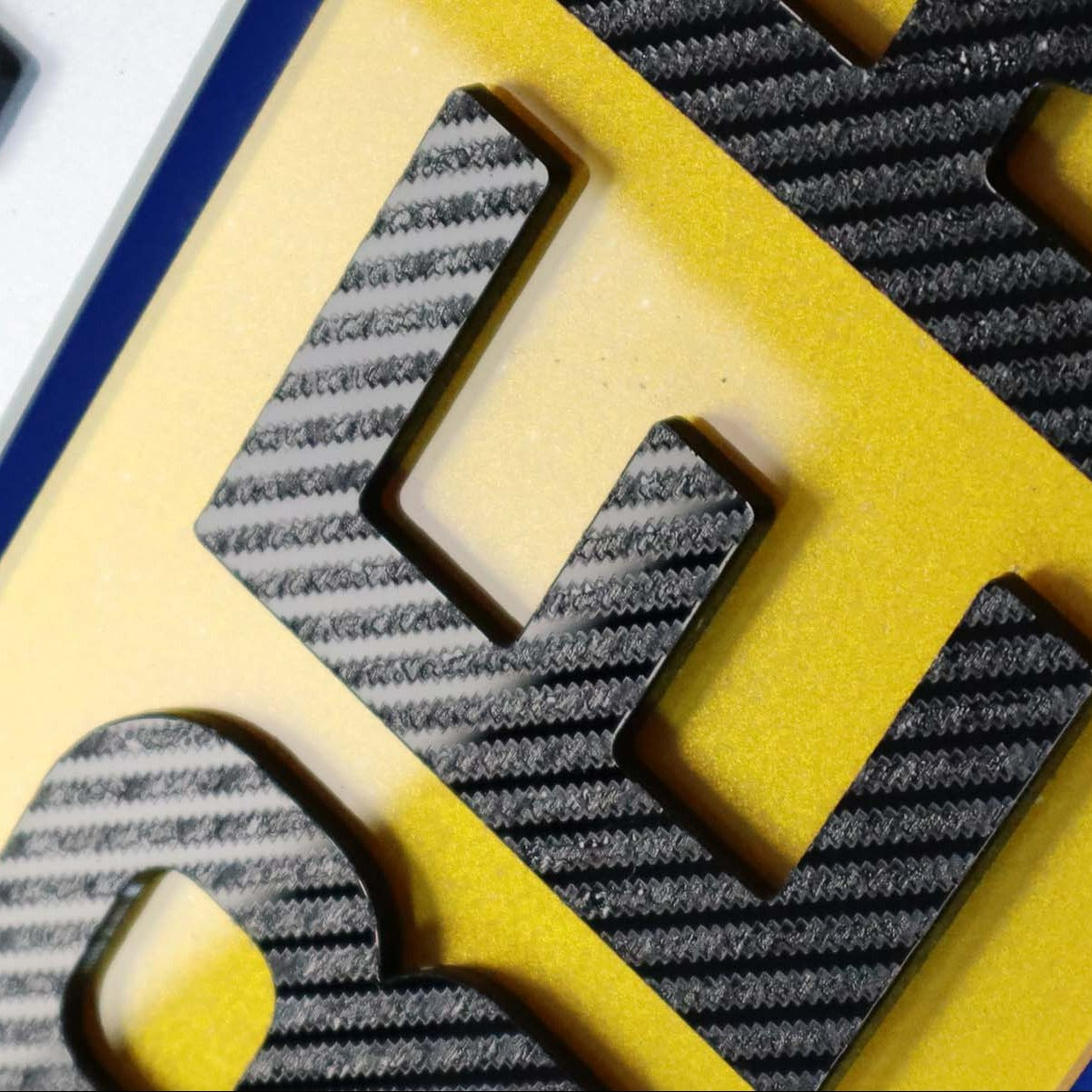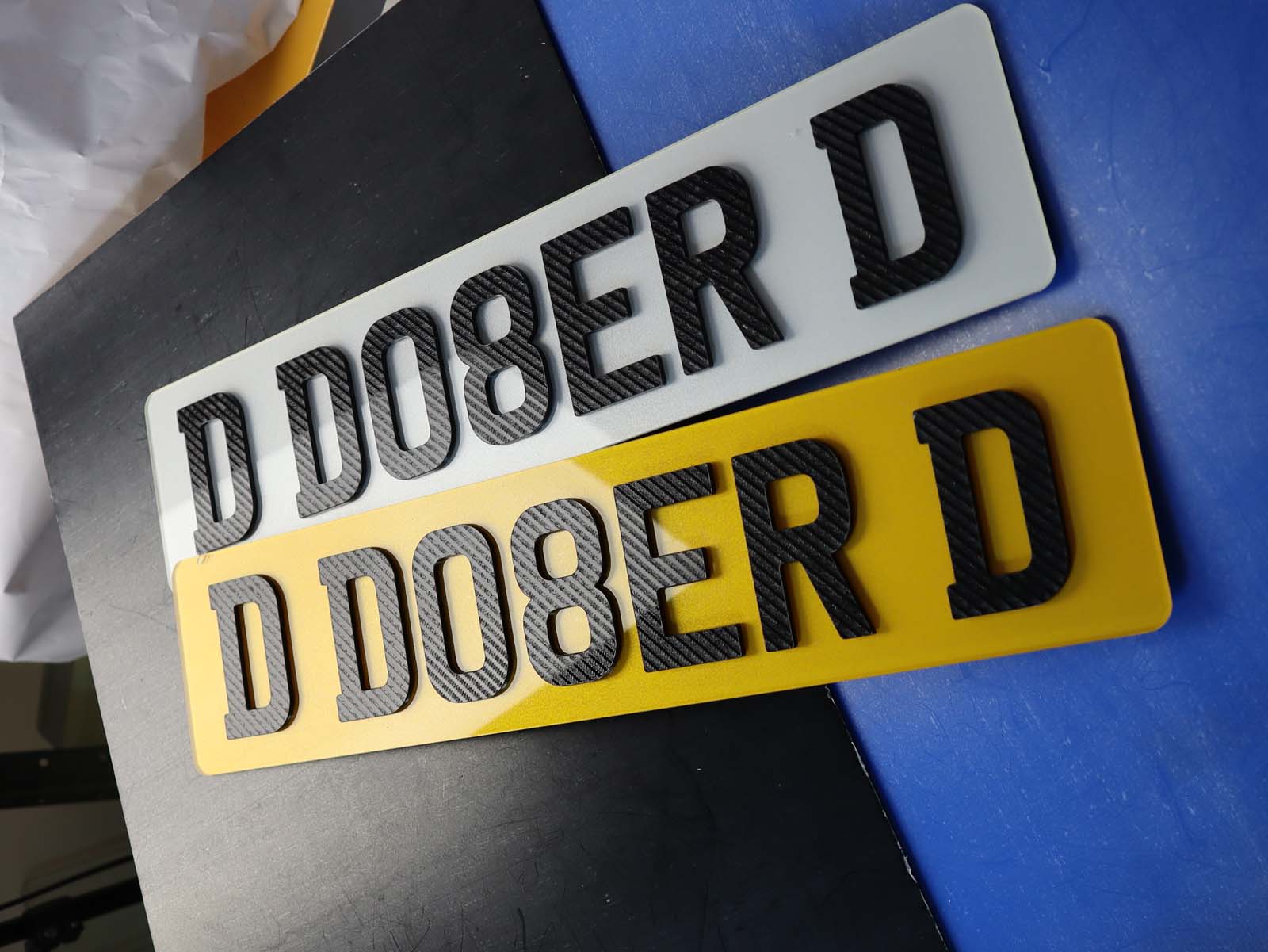 Textured Carbon Fibre Lazer Engraved 4D Number Plates
---
4D laser engraved number plates are a cutting-edge innovation in vehicle identification. These number plates utilize advanced laser technology to create a visually striking and highly durable design. Unlike traditional embossed or printed plates, 4D laser engraved number plates offer a unique three-dimensional effect that adds depth and complexity to the numbers and letters.
The laser engraving process involves etching the desired information onto the surface of a high-quality acrylic or metal plate. This technique allows for intricate detailing, crisp edges, and precise depth, resulting in a visually stunning appearance. The numbers and letters on the plate appear raised and textured, giving them a tactile quality that enhances their visibility and legibility.
One of the key advantages of 4D laser engraved number plates is their exceptional durability. The engraved design is resistant to fading, cracking, and damage from environmental factors like sunlight, rain, and temperature fluctuations. This ensures that the number plates maintain their aesthetic appeal and functionality for an extended period, even in harsh conditions.
Moreover, 4D laser engraved number plates offer enhanced security features. The intricate detailing and unique design make them difficult to counterfeit or tamper with, providing an additional layer of protection against illegal activities such as cloning or theft.
These plates are also highly customizable, allowing vehicle owners to personalize their number plates with various font styles, backgrounds, and decorative elements. This versatility opens up a range of possibilities for individuals to express their individuality and personal preferences while adhering to legal requirements.
Overall, 4D laser engraved number plates combine innovation, durability, and aesthetic appeal to provide a premium option for vehicle identification. With their striking three-dimensional effect, long-lasting quality, and enhanced security features, these plates offer a modern and stylish alternative to traditional number plates.
Fully road legal and meet and exceed all DVLA requirements and standards for number plates.
Water-resistant and easy to clean, making maintenance a breeze.
Affordable and cost-effective way to customize your vehicle and make it stand out from the crowd.
Suitable for both personal and commercial use, including taxis, vans, and fleet vehicles.
Further customise your plates by choosing different plate shapes and sizes.  We have all the common sizes available as well as a wide selection of stunning signature shapes.  We can even create something totally unique for your vehicle based off a drawing on a napkin (or paper if you prefer.)
Add more options such as luxury laser cut flag badges.  All UK styles available and custom ones can also be created if required.
Opt to add a Luxury 4D Laser Cut border to truly make your plate stand out.
Made from premium materials that are resistant to fading, cracking, and peeling, ensuring long-lasting durability and quality.
Easy to install and fit all standard UK vehicles.
Enhance visibility and improve safety with highly contrast letters and numbers that are easily visible in low light conditions.
As these are road-legal plates, we require two documents; one from each of the following categories.

Proof of Entitlement

This is any one document that shows you own/have rights to the vehicle or registration. Some examples are:

V5 Logbook
V62 Retention Document
Lease agreement

Proof of Identification

As it sounds, this is any one document that shows who you are. This can be with or without a photo. Examples include:

Passport
Driving License
Utility Bill
Bank Statement

Amongst the few examples given above, there are other forms of proof you can present as an alternative. Drop us a message and we will be happy to assist.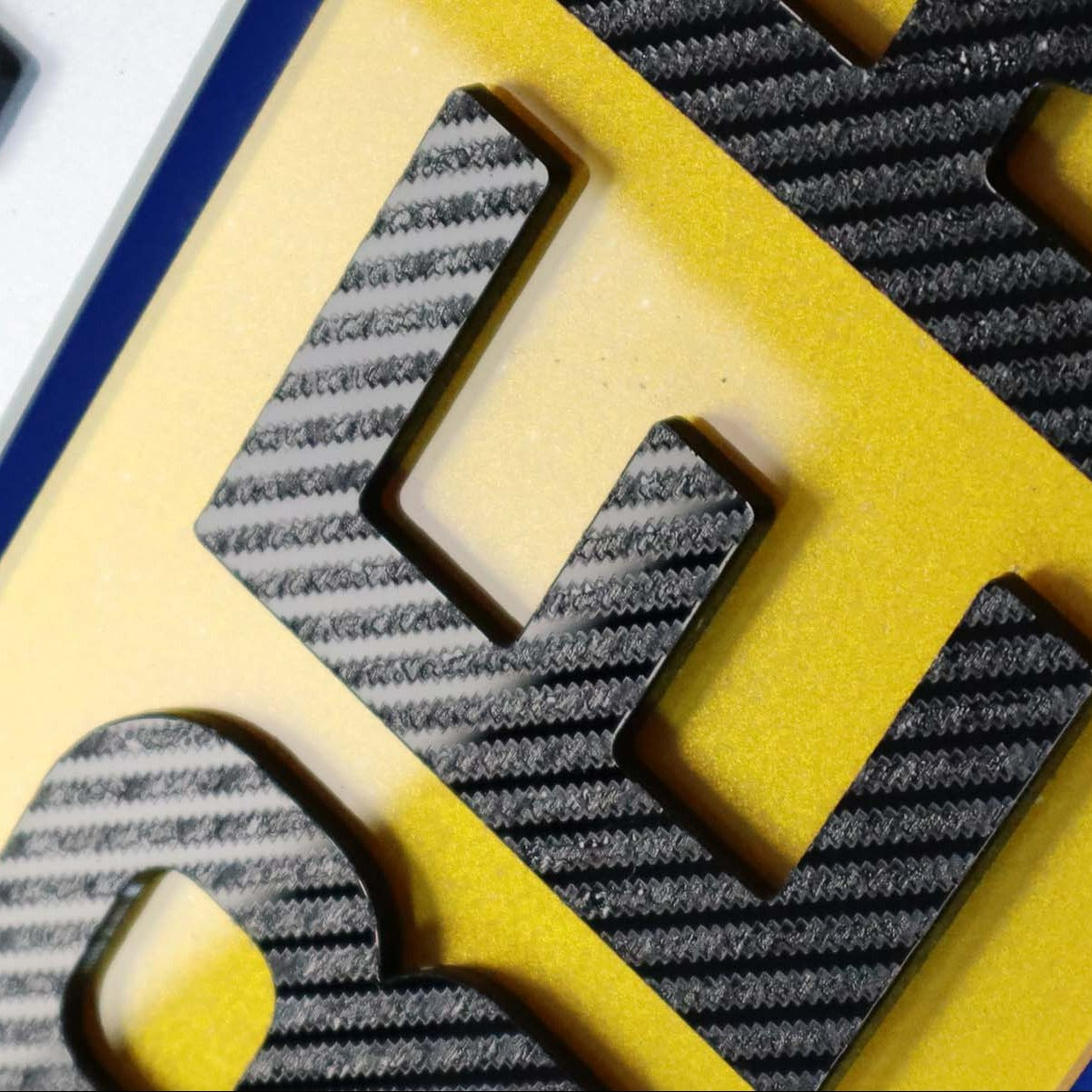 This product is rated 5.0 of 5.0 stars.
It has received 1 review.
Carbon fibre lazer
Im really happy with my number plates looking very good posh
Recommend good quality